Children's Ministries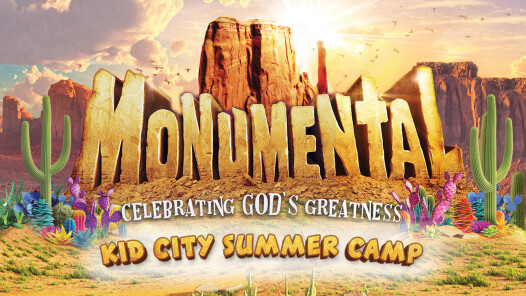 Monumental: Celebrating God's Greatness
Kid City's Summer Camp Monumental VBS: Celebrating God's Greatness!
Get ready to go off road for a Monumental Adventure through colorful canyons and sunbaked trails off the southwest. Kids will explore God's awesomeness, and form a rock-solid faith for the road ahead. Come experience the bible In action through: Godly Friendships, Imagination Station, Red Rock Rec Games, Snacks, Canyon Worship Celebration, KidVid Cinema, and Awesome Bible Adventures! The fun doesn't stop there, because we have Monumental Daily Surprises & Giveaways!
June 13th-16th (Monday-Thursday) | 9:00a.m.-3:00p.m. Pre-K-5th Grade I $50 per child New Beginnings Church 2000 Forum Parkway, Bedford, TX 76021
What is Kid City?
Kid City is a place where children are inspired to live for God and are taught to be a light to the world. Our passion is teaching children to love God and love their neighbor! We empower kids to become winners through the example of Jesus.
Dynamic Curriculum
We are changing kids' lives by showing them fun new exciting ways to serve God, while leaving kids with an unforgettable experience in their walks with God. We create a fun, engaging atmosphere where children participate in high energy worship, powerful prayer, exciting interactive bible stories, amazing games, lots of fun, and leadership opportunities that help develop their talents and gifts. We captivate their hearts through the message of Christ in an innovative way.
I'm new! What do I need to know?
Special Requirements
Does your child require special attention? Including but not limited to:
Food allergies
Learning disabilities
Circumstances at home
Reach out! We'd love to connect to see how we can serve your children best.
Kid City Service Times
Sunday: 10:00AM
Contact Information
Tel: 972-313-7133
Email: